A Memorial and Tribute ...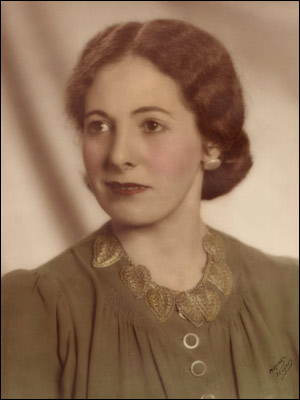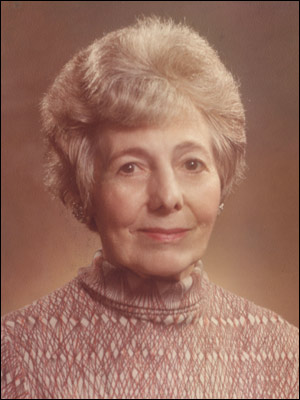 May 2, 1911 - June 2, 2006
Our beloved mother, Irene Connell, departed this life peacefully on June 2, 2006, at the Central Texas Medical Center, in San Marcos, Texas.
In everything she set out to accomplish in life, this consummate lady did it with dignity, grace, class and humility, including graduating from this life to the next. She went Home to her Heavenly Father and was looking forward to once again being with her family members and her husband, John's and my father.
This most selfless, caring and compassionate mother loved regaling her friends and family with stories of her own childhood in Pincher Creek, Alberta and Sidney, B.C. Canada. She began writing her memoirs in 1994 from childhood to adulthood, breathing indescribable life into every word. What a tremendous gift she left us.... her flair for writing evident throughout.
Irene was born May 2, 1911, to James and Elizabeth Yates Thornley in Pincher Creek, Alberta. Her father had emigrated from England in the early 1900's eventually settling in P.C. It took him eight years to save enough money and to build a cabin before bringing Elizabeth, the love of his life, from England to Canada. They were married in July, 1910. Most family members eventually followed suit. They owned a ranch named the Sylvan Ranch where he raised Arabians.
At the tender age of 11, Irene told her parents that "someday I'm going to marry a cowboy who has horses" Well, she did; 18 years later she married our father, Ed Connell, horseman and author.
In 1922 her family moved to British Columbia where she completed her schooling, but her heart was in Alberta. By the time the Great Depression was in full swing, she had already completed courses in nursing in Victoria. Her first job was as a private duty nurse.
Irene became an American citizen in 1935 when living in Newman, California. It was there that she met her future husband, Ed Connell. They married in 1941. She relished living on different ranches and was in seventh heaven when entertaining and preparing exquisite meals for their friends. Over the years our family lived on many ranches, having moved many times which in those days was a common thing to do.
Irene decided to return to nursing where she worked for a small hospital in Bakersfield, California for 15 years. She was a walking-talking conduit of information and knowledge when it came to preventive medicine, much of which was introduced to her in Canada.
She and Rodale got along famously. When the doctors couldn't get well fast enough to their liking, they called upon "Doc Irene."
If there was anything that she preferred doing the most, it was taking care of newborns. She had a way with them that no one else had. They always thrived better when she was around and there were a lot of grateful parents. We have all witnessed babies and children wreathed in smiles when seeing our mother for the first time. Dogs and horses would follow her, as if she were an old friend.
Many people told Irene during her lifetime that she was an Old Soul; she must have been as she was naturally wise and only gave sage advice when asked.
One of her favorite stories involved the Titanic. Irene and her parents traveled back to England in 1912 for one month to visit relatives. Passage to New York was booked on the Titanic. They had all boarded the ship only to discover that a suitcase had been left behind at the hotel near the dock. Irene's father left to retrieve the suitcase. Upon his return, he discovered his wife and daughter and luggage on the dock. "What's the matter, Beth, why aren't you on the ship"? Whereupon she replied, "we're not taking this ship, Jim, I don't have a good feeling about it at all-we'll take the next one." Grandmother was incredibly intuitive as was demonstrated repeatedly throughout her life.
In 1970-1975 Irene worked in Brentwood, California as a private nurse for a wonderful family. She was in her element once again when it came to entertaining, flower arranging and preparing fancy luncheons for her employer and friends.
Our mother spent her remaining years in Texas to be near her family. We never had the luxury of really knowing our grandparents well due to the distance ... she made certain that she would know her grandchildren; for that we are all grateful.
Irene is survived by: her daughter Leslee Schwartz and husband David of Wimberley; son John Connell of Tomball, Texas; and three grandchildren, Jennifer of Houston, Paul and his wife Rachel of Austin, and Rebecca Hernandez and her husband Danny of Texas City.
Memorial Services were held July 14, 2006 at the Unity Church in Wimberley. Her ashes will be scattered in California.